In June of 2015 the race horse American Pharaoh accomplished what no thoroughbreds horse had
accomplished since 1978 by winning the Triple Crown. Engineers today are striving to hit a different triple crown with every design….Smaller Footprint, more capabilities and lower overall system cost. When designing an embedded barcode solution, one option that may allow your engineering team to meet these challenges is to utilize an embedded scan engine. We will look at some of the additional value a scan engine can bring to your design over a fixed position reader.
Smaller Footprint
While today's fixed mount readers are more compact than ever, there is still a considerable size difference vs. a scan engine. For example, the Opticon NLV3101 fixed position reader measures out at 1.62 x 1.30 x 0.94 in, while the MDI3100 Scan engine measurements are 0.99 x 0.49 x 0.83 in (including the embedded decoder board). Some of the potential benefits of the reduced footprint are:
1) Ability to mount closer to the target to allow for higher density barcodes.
2) Fitting the barcode reader into a much tighter space. This can be particularly useful when adding to an existing platform.
3) Less overall system space.
When looking at the options, it is important to account for the decoder board in your layout. Some scan engines, such as the MDI3100, have the decoder board embedded and come as a single unit. Other engines have the decoder board attached to the engine via an FFC cable and these have a slightly larger footprint.
One advantage a fixed position scanner has is the fact that it is enclosed and better protected. If your application requires the scanner to be directly exposed to a harsh environment, a fixed position scanner may be the better option for you.
Cost
Typically, a scan engine is going to run anywhere from 30-50% less than an equivalent fixed mount scanner, making them a much more affordable option for your design. One thing to keep in mind when making a decision between an engine and a fixed mount reader is how are you going to set up the communication between the system and the host. If your engine will be close to the host connection thru which it will be communicating (less than 2 inches) the engine can usually be connected directly with an FFC, if there is a greater distance it will usually require a separate com board connected to the engine with an FFC, then communicating with the host via USB or RS-232.
Capabilities
Other than the ability to mount closer, allowing for higher density codes, the performance and the enhancements that you can expect from a scan engine will be the same as in a fixed mount. Do you need to read multiple barcodes in 1 scan? Perhaps you would like to utilize the focusing laser to give you the distance to the target? Added capabilities such as these are resident in the scan engine and can be utilized in either configuration. It is important to work with your sales engineers and support people to discuss capabilities built into the barcode scanner that may not be on the spec sheets, the list is growing all the time.
Moving forward with your project, there are multiple things to consider when deciding between a fixed mount reader and a scan engine. Working with RESCO and their partners can help you the most effective and cost competitive barcoding solution for your instrument.
About the Author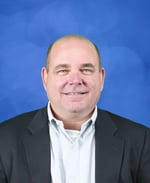 Charles Fisher is Director of Sales of RESCO Electronics, a manufacturer of electronic assemblies and a value added reseller of auto ID equipment . Charles is a seasoned International Sales and Sales management professional with over 20 years in the electronics industry with extensive experience with Auto ID and data collection solutions, wire harness and electro-mechanical manufacturing, and supply chain solutions. During his career Charles has held positions with Milgray Electronics, Bell Industries, All American Semiconductor and Reptron Electronics.

Charles is a graduate of the William Penn Charter School and Saint Joseph's University with a degree in International Relations. He currently resides in Maryland with his wife and 2 daughters.