A fundamental key to achieving optimal performance is choosing the right barcode reading technology when dealing with a data collection solution. Now, as more technologies are developed, the choices are more varied than ever. There has been much debate concerning
Opticon MDI-3100 2D Imager
the merits of laser-based as opposed to camera-based barcode readers. For example, some think that only image-based readers should be considered for new automation applications. This raises the question, are laser-based barcode scanners obsolete? Are imagers the only viable technology for today's applications? Well, imagers have definitely increased in use due to the growing adoption of 2D symbols such as Data Matrix; however, laser scanners still set the standard for high speed and accurate barcode reading in many applications. The optimal solution will ultimately be dictated by the specific requirements of an application. That being said, there are three critical considerations to keep in mind when deciding. Is this application using 1D, stacked, 2D, or a combination of symbols? Are the barcodes of good quality and consistently placed? Finally, is it a high speed application? Using these three key questions will help steer the decision-making process when it comes to choosing a barcode reader.
Review of the Technology
Laser scanners use a beam of light to form a single line across the width of a barcode, and can only decode in one dimension. Fixed raster scanners were created in the 1970's to read 1D barcodes in supermarkets. They gained widespread use in manufacturing after the invention of the compact laser-diode scanner in 1982. Scanner models that possess a sweeping or
Example of a 1D barcode
omnidirectional raster have the capability to read stacked 1D symbols. In some industries, 1D use is declining where the small 2D symbols seem like a more attractive option. However, linear barcodes remain a crucial element in many applications and industries including: shipping labels, pharmaceutical packaging, and clinical diagnostics. 1D symbols are still very much in use across the globe due to their low cost, simplicity, universal recognition and ability to be printed and decoded easily. If an application uses a 1D barcode or stacked symbol, a laser scanner is most likely the best solution. Lasers are reliable and relatively cheap. They are typically faster than imagers and can read over long distances with greater depth of field. Being less complex, lasers are easy to integrate into an instrument or manufacturing line.
Camera-based imaging was developed in the 1990's and uses rows of CCD or CMOS sensors arranged in a two-dimensional array to generate an image of the symbol. This image
Example of a 2D barcode
processing has the capability to decode both 1D and 2D formats. 2D symbols such as the Data Matrix have been adopted in many industries including electronics and automotive manufacturing. This is because these symbols allow large amounts of data within a small area. Information-dense 2D symbols are also effective in marking small items for tracking purposes throughout their life cycle; a process known as direct part marking (DPM). If 2D symbols are used in an application, imagers or other camera based products must be used.
Making a Decision
Manufacturers should assess the best technology and product to meet specific application
Opticon MDL-2001 1D Laser Scanner
needs at an optimal cost-performance ratio. Laser products possess the advantage of 30 plus years of refining the technology. This allowed the creation of standards and the ability to perfect the most cost-effective units. Imaging products were developed much more recently and provide reading solutions at a higher cost along with a higher level of complexity. While camera-based imagers experience slower decode rates, they present the added benefit of quality validation and flexibility to read a wider variety of symbols.
About the Author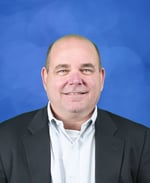 Charles Fisher is Director of Sales of RESCO Electronics, a manufacturer of electronic assemblies and a value added reseller of auto ID equipment . Charles is a seasoned International Sales and Sales management professional with over 20 years in the electronics industry with extensive experience with Auto ID and data collection solutions, wire harness and electro-mechanical manufacturing, and supply chain solutions. During his career Charles has held positions with Milgray Electronics, Bell Industries, All American Semiconductor and Reptron Electronics.

Charles is a graduate of the William Penn Charter School and Saint Joseph's University with a degree in International Relations. He currently resides in Maryland with his wife and 2 daughters.