In part 1 of this blog posted last month we discussed what an embedded barcode reader does

and how the type of data desired to collect will determine the type of scanner needed and what aspects of engineering must work harmoniously for successful implementation. Now we will focus on the latest trends with embedded scanners and the consequences of a bad reader choice.
Latest Trends with Embedded Scanners
The introduction of 2D readers just a few years ago has brought significant performance improvements over that of older 1D readers. The following list highlights the main benefits offered by the new generation of readers:
Higher reading speeds. Reading more data via better sensors, optics and software algorithms is a primary development that has led to higher throughput in the host applications.

Simultaneous barcode reading. 2D readers have digital sensors that allow simultaneous barcode reading and processing (typically up to six barcodes), further increasing throughput.

Added functionality and simplicity. Despite increased complexity, the integration of extra functions like machine vision or distance measuring simplifies client equipment needs, increases throughput and further lowers capital and operating costs.

Lower system costs. Higher data speeds, more widespread use and multi-functionality have all led to lower system costs and are making 2D readers increasingly cost effective.
Application design engineers now have more embedded reader options than ever before!
Consequences of a Bad Reader Choice
Choosing an unsuitable reader for a particular application always has undesired consequences. Beyond a reader simply not working at all, the two main issues are:
Erroneous data. The most serious problem of scanning arises when we have an erroneous but believable data reading. The result we obtain is quite different to what we are actually trying to read. The consequences can range from annoying to catastrophic. A good example is that of medical applications where the health or life of a patient is at stake and even minute mistakes and wrong decision making can have grave results. Therefore, beyond following a reliable route in selecting the right equipment, it is also essential to configure the reader correctly.

Low system efficiency. When readers are used to near or beyond their maximum operating range, accuracy and throughput will suffer. In an environment like industrial applications, the reader can then become a bottleneck that has the adverse effect of lowering overall productivity. It is important to correctly define the conditions under which a reader will be expected to perform and choose a reader that can consistently operate in that environment.
In conclusion to this 2 part series, there are many things to consider when designing in an embedded scan engine and there are some value added options as well to help reduce your overall costs of the project at hand. The consequences of choosing the wrong reader can include collection of erroneous but believable data that could mean the difference between life or death for a medical patient. Contact RESCO today for more information on choosing the right embedded scanner and successfully implementing it in your application.
About the Author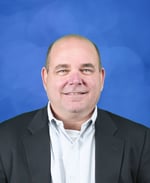 Charles Fisher is Director of Sales of RESCO Electronics, a manufacturer of electronic assemblies and a value added reseller of auto ID equipment . Charles is a seasoned International Sales and Sales management professional with over 20 years in the electronics industry with extensive experience with Auto ID and data collection solutions, wire harness and electro-mechanical manufacturing, and supply chain solutions. During his career Charles has held positions with Milgray Electronics, Bell Industries, All American Semiconductor and Reptron Electronics.

Charles is a graduate of the William Penn Charter School and Saint Joseph's University with a degree in International Relations. He currently resides in Maryland with his wife and 2 daughters.