There are many benefits to working with a contract manufacturer (CM). As a result, many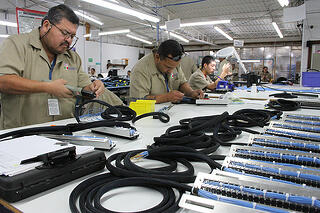 companies are finding plenty of reasons to outsource their production to another entity…and with good reason. Although outsourcing production may have risks, these risks can be minimized by carefully selecting a CM that complements your company's core competencies. When deciding on a CM, you should weigh the benefits and associated risks.
Among the benefits that a contract manufacturer can deliver are:
Labor Cost Savings – Cost of labor wages, training and benefits, which have the potential to be enormous, can be minimized. So selecting a CM with a production site in a lower cost country, such as Mexico, can yield even greater cost benefits.
Material Cost Savings – Often CMs, especially larger ones, will have pre-negotiated agreements with raw material suppliers that leverage that CM's volume to secure prices lower than your company can.
Reduced Investment in Working Capital – Partnering with a CM almost guarantees a reduction in your company's working capital. In a typical contract manufacturing relationship, the CM will carry most all the raw and work-in-process inventory and, in some cases, the CM will hold the finished product and deliver it on a just-in-time basis to your manufacturing floor.
Asset Utilization – CMs are typically focused on a certain type of manufacturing and, as a result, can spread the cost of manufacturing assets (plant, equipment, etc.) over the production of many products for many different customers.
Quality Control – CM's with robust quality control systems, typically that are ISO certified, provide you with assurance and comfort that their manufacturing methods are solid and systems are able to consistently deliver a quality product built to your specifications.
Product Enhancement – Many contract manufacturers have well developed expertise in certain assembly types (circuit boards, cable assemblies, etc.). Often this expertise can be leveraged to improve your products design.
Just-In-Time (Kanban) Delivery Systems - This was mentioned above but from a working capital reduction perspective. Just-in-time delivery systems which include kanban systems can also help with factory flow (having product when you need it where you need it) and can improve physical plant utilization by freeing up space previously used to store inventory.
Speed to Market – Yet another advantage to working with a good CM is that the relationship can help increase the speed at which you can roll-out new products and make changes to those already existing. Typically contract manufacturers are accustomed to rapid changes in production plus whatever they are producing for your company is one less thing for your organization to worry about.
Mutual Working Relationship – This is the "two heads is better than one" benefit. By partnering with and building a relationship with a progressive contract manufacturer there are many other areas of benefit. For example, the CM should be able to help you spot inefficiencies in your processes (and you may be able to do the same for them). The bottom line here is that having another set of experienced eyes looking at products and processes will almost always bring benefit.
Staying competitive in today's economy requires that you employ new and progressive production strategies. One of these strategies should be partnering with contract manufacturers to complement your core competencies. Although there is always risk in outsourcing, there is also risk in going it alone. By partnering with the right CM your company can realize product cost savings, reduce working capital, improve asset utilization, enhance product design and increase speed to market.
About the Author
Carlo Capizzi is VP of Finance and Accounting for RESCO Electronics, a Baltimore based manufacturer of electronic
assemblies and value added reseller of auto ID equipment to original equipment manufacturers. Carlo is a seasoned CPA with a wide range of accounting and finance experiences in public accounting and consulting, banking and industry. He is approaching his 20th year with RESCO.
Carlo has a Bachelor of Science in Mechanical Engineering from the University of Delaware and a Master of Science in Finance from Loyola University. He is married and lives in Phoenix, Maryland with his wife and daughters.